Computer rioting and some other non-related things of note
"Mothers clutched their children for protection, people screamed as they were knocked to the ground, a stroller was demolished, cars inched through the crowd."
-- Richmond Times Dispatch, Aug. 17
Sometimes I really wonder about human beings and why they do what they do.
Then comes this from last month in Richmond, VA.
The story goes that $50 used iBooks were going to be sold and the crowd got unruly. Then they pushed and shoved and stampeded.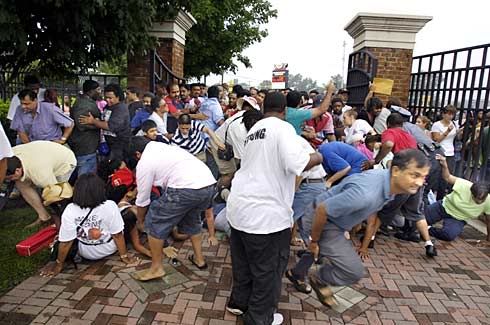 Photo by Dean Hoffman/Times-Dispatch
In other less violent news at 2:57 a.m.
--Larry King alternates from being interesting and scaring me. I still haven't figured out the guy.
--The Chicago White Sox lost, but are closer to the playoffs because the Indians lost. This bothers me. I want history. I was a collapse like no team has ever had. And I want it to be the White Sox who do it. And I want the nation to get to see Coco Crisp and Grady Sizemore and Travis Hafner and Jhonny Peralta and C.C. Sabathia play on the huge stage. That is what I want, and I don't even particularly like the Indians.
--The aforementioned Travis Hafner goes by the nickname "Cronk," which in an age of nicknames simply being the addition of a Y to the end of a name, is amazing. Also, Coco Crisp, which is the best name in baseball, isn't even his given name. That would be Covelli Crisp, which would still be the best.
--For some reason, there is a whole bunch of jerky lying around the house that my mom bought. She is involved in this jerky business, and it kind of freaks me out. A couple weeks ago, she made these little pizzas that I usually like. I took a bite, and something didn't taste right, but I was hungry, so I went with it. Then I realized she stuck pieces of jerky in it and didn't feel so good. I hate jerky.
--I like
Los Angeles Times sports columnist T.J. Simers.
He is sarcastic, and you really can't take what he says too seriously, but nobody writes a funnier sports column.
--Yeah, I could go for a pretzel, too.