The Red Sox new pitcher
No wonder the Red Sox lost tonight. They had Chewbacca pitching for them. Sure he can probably throw 100 mph, but look at those hands. While they need a left handed relief pitcher, I don't think Chewie is the way to go. He has little control of his pitches, and his demeanor is not fitting for baseball, especially in a city such as Boston. The Red Sox are desperate.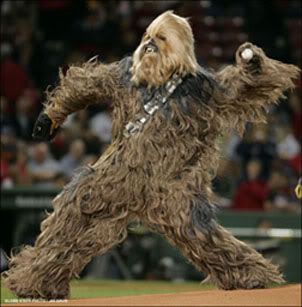 Photo by Jim Davis/Boston Globe
Although, if you look closely, that might just be Johnny Damon after not shaving or cutting his hair for a few months.